About Us
We help you to realize your blockchain business
---
엠블럭은 고객과 함께 현장의 소리를 담은 실천적인 블록체인 서비스를 발굴하고
서비스를 현실화하기 위한 기획과 전략 수립에 참여하며 필요한 기술과 소프트웨어 개발을 지원합니다.
Emblock works with customers to find practical blockchain services that reflects voices from the field. We also participate in planning and strategy to make the services a reality
and support the development of necessary technologies and software.
Blockchain Software Development
엠블럭은 다양한 분야의 고객사와 파트너사의 비즈니스 아이디어를 성공적인 블록체인 솔루션 및 서비스로 전환하는 경험을 가지고 있습니다. 각 사가 가지고 있는 고유한 비즈니스 성격 및 요구사항에 맞춰 적절한 블록체인 기술을 적용하는 전략을 제공하였습니다.
자세히 보기
Emblock has the experience of transforming business ideas of various companies and partners into successful blockchain solutions and services. We can provide strategies to apply the appropriate blockchain technology for the unique business characteristics and requirements of each company.
View Details
KISA-우정사업본부, 블록체인 기반 전자 우편사서함 시범사업
TS Foundation, 블록체인 기반 부동산 투자 플랫폼
SKT, Smart Factory 데이터 유통관리 서비스
KISA-KOREA POST, Blockchain Based Mail Box Pilot Project
TS Foundation, Blockchain Based Real Estate Investment Platform
SKT, Smart Factory Data Circulate Management Service
Business Consulting & Education
엠블럭은 15년 이상의 현업 경험을 가진 인력과, 서강대학교 컴퓨터공학과 석박사 학위를 가진 기술인력들로 구성되어 있습니다. 2010년부터 블록체인 기술을 다양하게 연구·개발해 온 서강대학교 컴퓨터공학과의 핵심 기술 및 노하우를 바탕으로 여러분들이 4차 산업혁명과 블록체인 기술이 불러올 새로운 흐름에 적응할 수 있도록 컨설팅 및 교육 서비스를 제공합니다.
자세히 보기
Our team is made up of over 15 years of work experience and master's and doctoral degree technical skills from Sogang University. We provide consulting and education services based on the core technology and know-how of the Department of Computer Engineering, Sogang University, which has been studied since 2010. It will help you adapt to the new flow of the Fourth Industrial Revolution and Blockchain Technology.
View Details
두산, 동대문 패션 클러스터 비즈니스의 디지털 트랜스포메이션 컨설팅
삼성 청년 SW 아카데미, 교육용 블록체인 프로젝트 설계·제작·강의 지원 및 기술 지원
DOOSAN, Digital Transformation Consulting for Dongdaemun Fashion Cluster Business
Samsung Software Academy For Youth, Blockchain Project Design·Production·Lecture Support and Technical Support
Blockchain Technology Research
서강대학교 지능형 블록체인 연구센터 및 한국블록체인학회와 연계하여 20명 이상의 국내외 블록체인 연구진과 함께 블록체인의 기반 기술을 지속적으로 연구하고 있으며 이 연구 결과를 활용하여 실제 산업 현장에 적용할 수 있는 소프트웨어 제품을 개발합니다.
자세히 보기
We are studying blockchain based technology consistently with over 20 researchers of Intelligence Blockchain Research Center, Sogang University and Korea Society of Blockchain. Based on the results of this study, we develop a variety of software products that are suitable for the real world.
View Details
서강대학교 블록체인 연구센터
한국동서발전, 발전소 내 운용 중인 사물인터넷 기기들의 보안을 위해 블록체인의 메커니즘을 활용한 신기술 개발
특허 출원
Intelligence Blockchain Research Center, Sogang University
Korea East-West Power Corporation, Technology Utilizing Blockchain Mechanism for Security of IoT Devices in Power Plants
Patents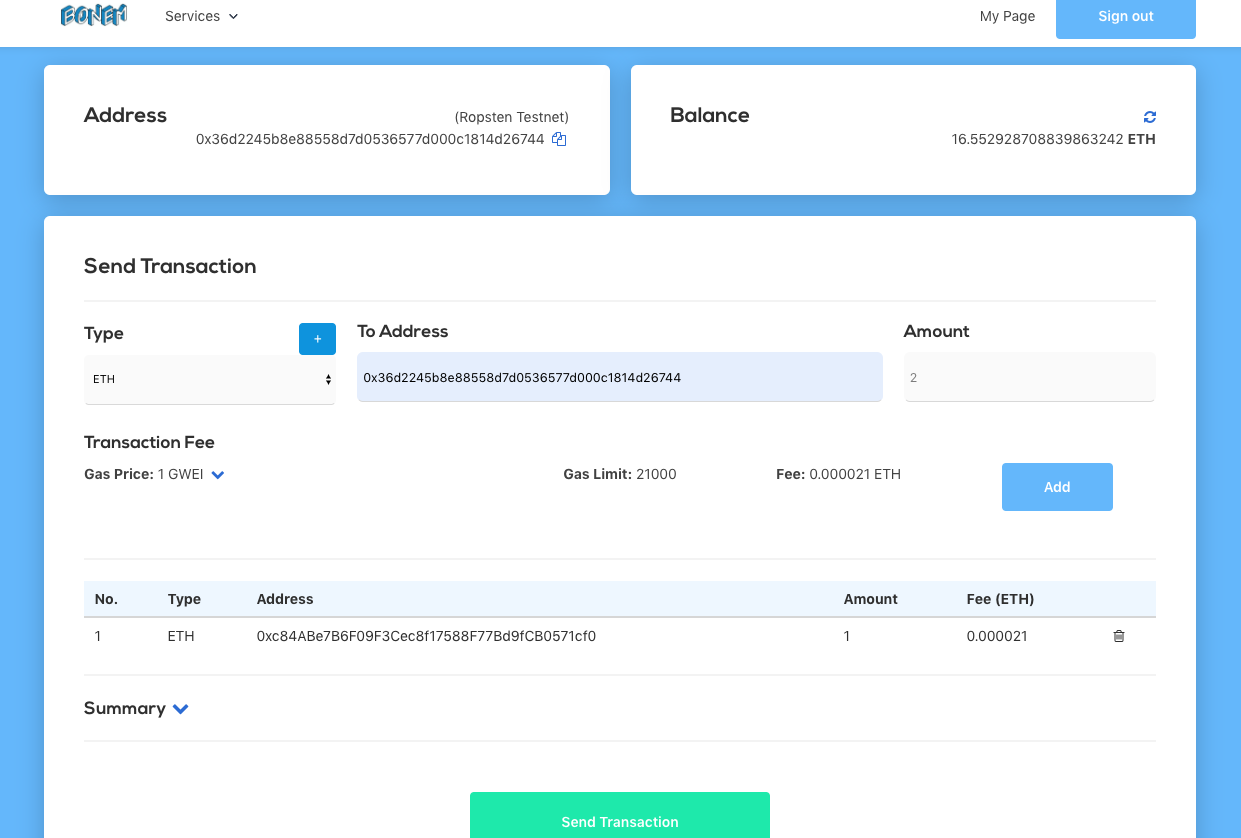 BONEM
이더리움 또는 ERC-20 토큰의 대량 전송을 한 번에 요청하고 결과를 확인할 수 있는 간편 토큰 전송 서비스입니다.
BONEM allows you to request bulk transfers of Ethereum or ERC-20 tokens and check the results simply.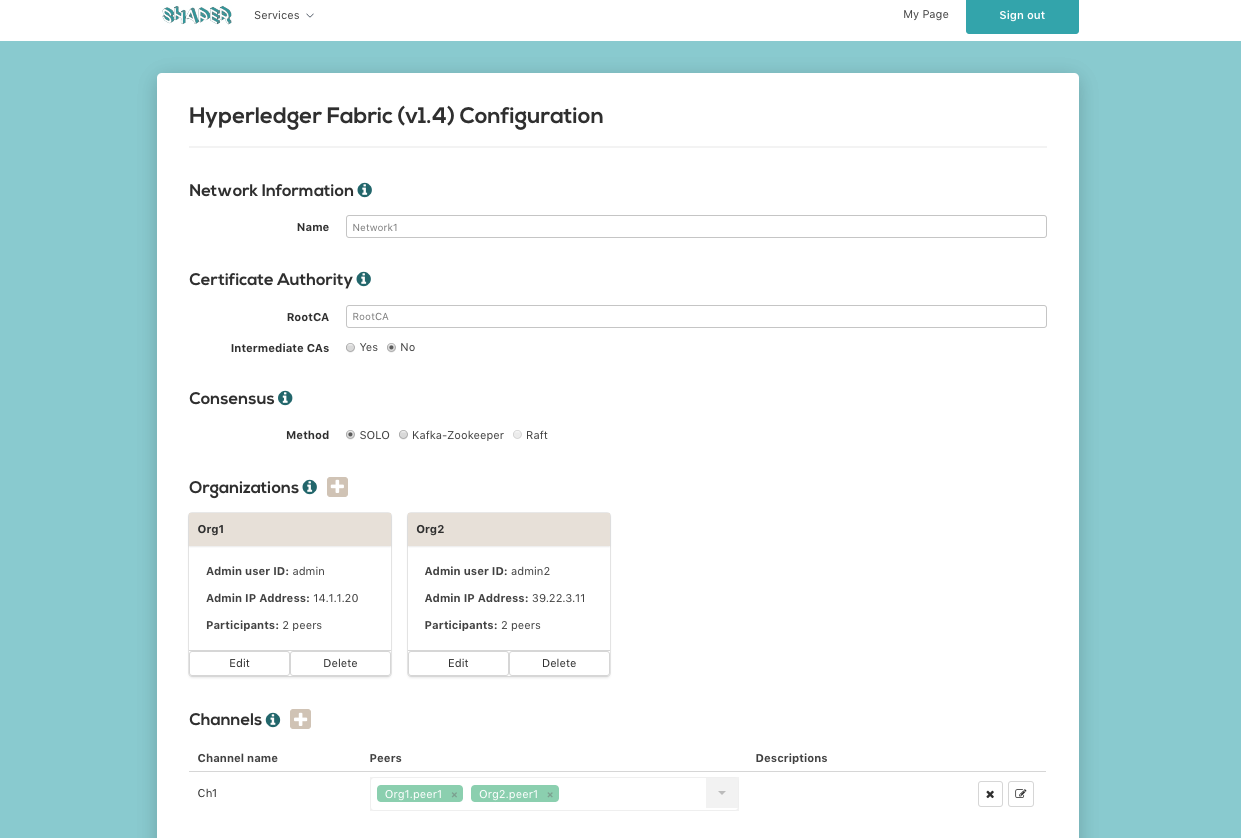 SHAPER
UI를 통해 하이퍼레저 패브릭 블록체인 네트워크 설정 파일을 오류 없이 작성할 수 있도록 도와주는 서비스입니다.
SHAPER helps you to create Hyperledger Fabric Blockchain network configuration file without error through UI.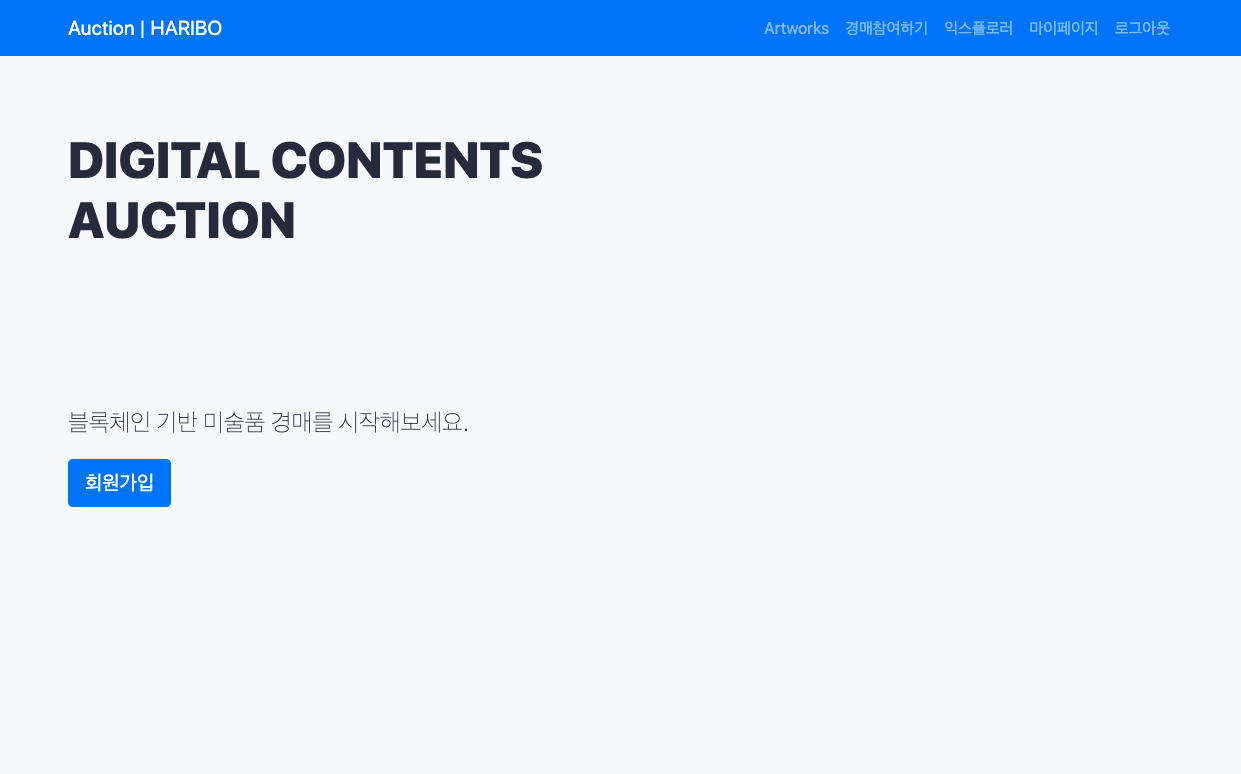 HARIBO
삼성 청년 소프트웨어 아카데미(SSAFY) 1기를 위해 고안된 디지털 예술품 경매 서비스 데모입니다. 이 서비스는 이더리움과 하이퍼레저 패브릭을 동시에 사용하고 있습니다.
HARIBO is a digital art auction service designed for 1st SAMSUNG Software Academy For Youth(SSAFY). This uses Ethereum and Hyperledger Fabric at the same time.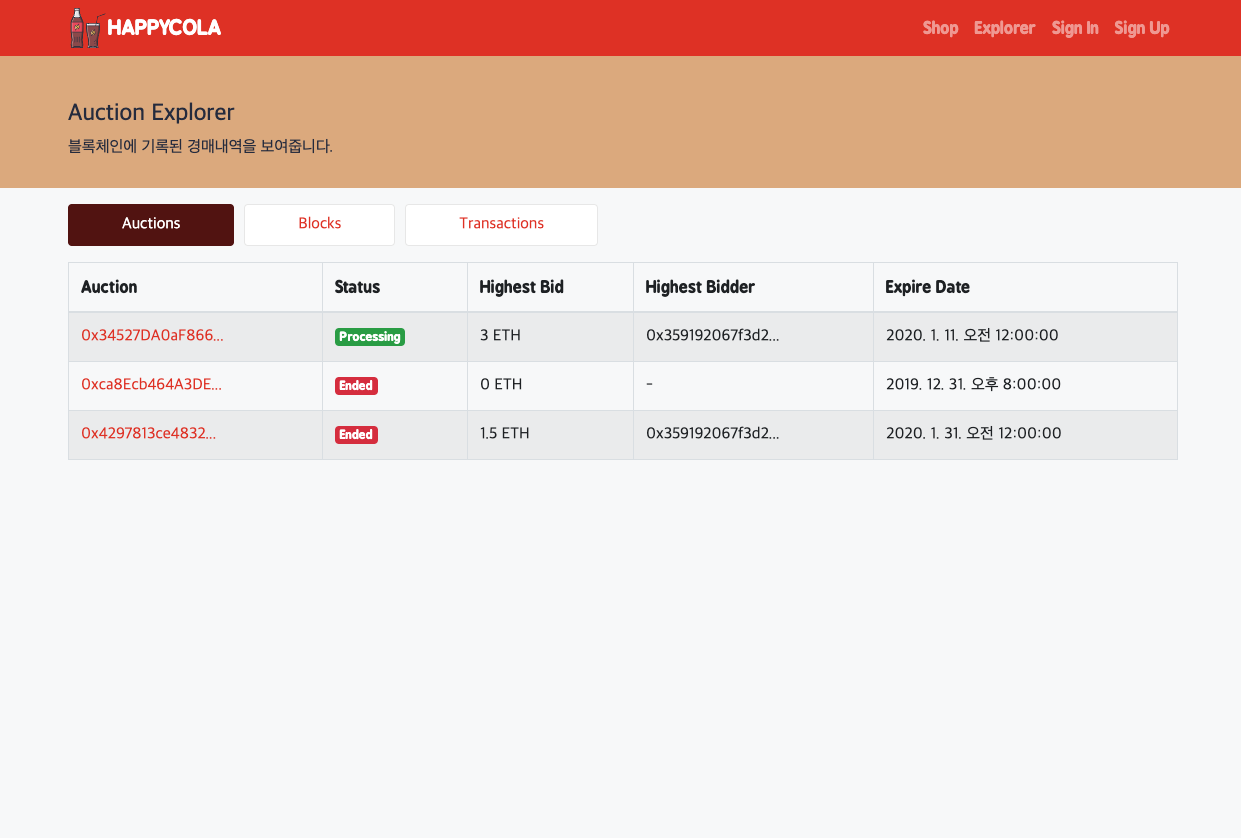 HAPPYCOLA
SSAFY 2기를 위해 고안된 교육용 중고 상품 경매 서비스 데모입니다. 이 서비스는 이더리움과 하이퍼레저 패브릭을 동시에 사용하고 있습니다.
HAPPYCOLA is an educational used item auction service. This uses Ethereum and Hyperledger Fabric at the same time.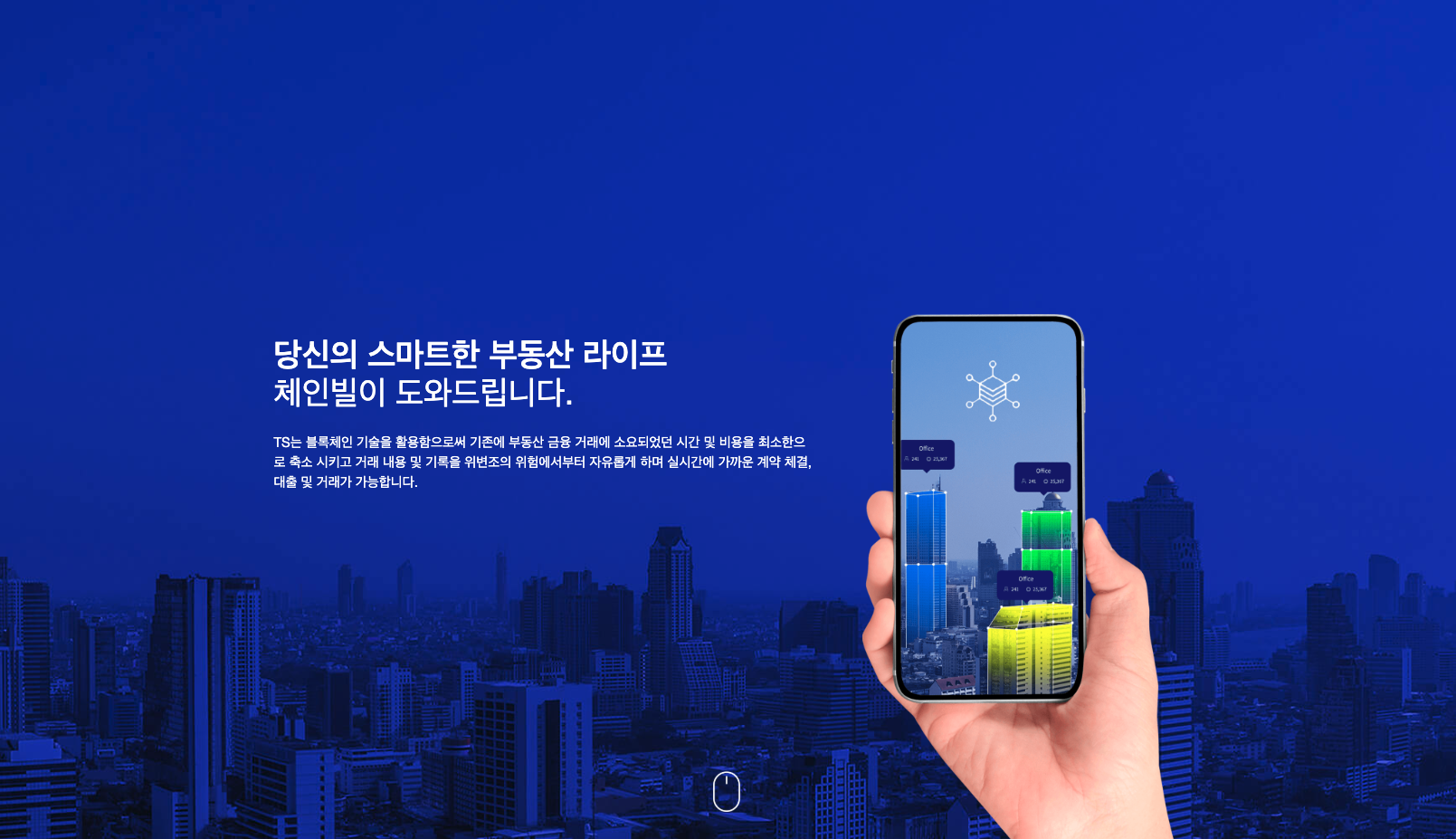 CHAINVILLE
유틸리티 토큰을 활용한 블록체인 기반 부동산 투자 플랫폼입니다. 지분 보유 정보를 퍼블릭 블록체인 상에 발행한 증권형 토큰으로 관리합니다.
This is blockchain based real estate investment platfrom using utility token. Shareholding information is managed by securities tokens issued on the public blockchain.
Partners
Our Partners
---
엠블럭은 다양한 산업분야에서 유수 기업들과 함께 블록체인 비즈니스 생태계를 만들고 있습니다.
Emblock is creating a blockchain business ecosystem with leading companies in various industries.